Electrical Switchboard Upgrade Pretoria. Your switchboard is the 'control panel' of your home's electrical wiring. If your switchboard is getting on in years, you need to consider upgrading it for the following important reasons:
• Short-circuits – older switchboard have a greater propensity to short-circuit, meaning that there is a risk of the fuses catching fire, or risk of electric shocks. If your current switchboard still uses replaceable wires on the fuses, it is a safety hazard and needs to be replaced.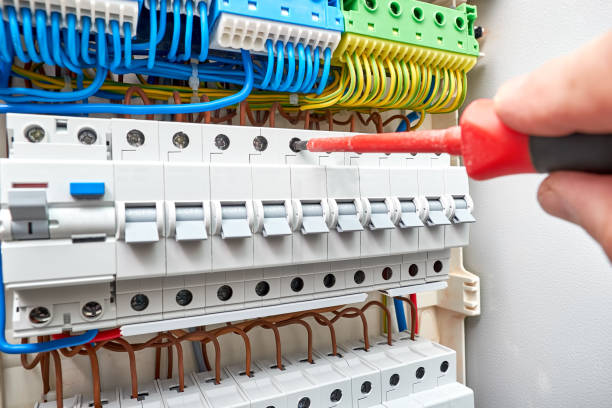 • Insufficient power supply – our homes nowadays rely on many more appliances to run than they did in our parents' day. With a reliance on computers, air conditioners, home theatres, microwave ovens, fitness equipment, pool pumps, stereos and more, it is essential that the switchboard is able to handle the amount of electricity required by the household. Indications of an insufficient power supply are: power tripping, flickering lights.
• Safety Switch – this gives you the ability to cut down or restore power when necessary, a feature not present on older switchboards. An electrical safety switch is a crucial feature of modern switchboards. Electrical Switchboard Upgrade Pretoria
An upgrade of your switchboard is not a big investment for the sake of your family's safety. If you would like an assessment made of your switchboard, call Quantum Electrical Solutions for a professional opinion.
We will test your unit for safety and recommend a date for your next upgrade, or we can even upgrade it there and then if your switchboard is hazardous. To safeguard your family, make sure you don't leave it too late to replace your ageing switchboard.
Switchboard upgrades Pretoria
Every day we deliver the highest quality switchboard services to homeowners across Pretoria. If you are dealing with a tripping circuit, safety switch or faulty switch, we will respond to your needs in a swift, efficient and friendly manner.
We promise to get the job done right the first time and we promise to respect your property as if it were our own. These principles are applied to all of our switchboard services.
Electrical Switchboard Upgrade Pretoria.
Switchboard upgrades are normally required due to safety issues. Is your current switchboard outdated or do you still have an old fuse board that is giving you issues? These can be very dangerous and highly frustrating. Having a faulty board could possibly lead to fires, electrocution and even death. We service all areas of Pretoria.
Reasons why you may need a Switchboard Upgrade:
Safety issues
Old fuses can have loose connections that can lead to fires in the switchboard. These fires can travel in the wall and enter the roof.
A power inspection authority can issue you an electrical defect notice. This can happen during a routine inspection or during an investigation regarding a possible electrical issue.
If you have an existing panel that contains asbestos and are in need of new metering, the old panel needs to be replaced.
Installation of new equipment
Switchboard upgrades are often needed when new equipment is being installed such as an air conditioner, oven or 3 phase machinery.
When the old panels were installed they were not designed for today's electricity needs.
There is also the possibility that they do not have the required Safety switches (RCD's). These are put in place to protect you and your family from electrocution.
An old or defective meter box is a severe safety concern and can catch fire. Switchboard upgrades are needed when you need the meter box box replaced. Electrical Switchboard Upgrade Pretoria.
If there is a defect that needs taken care of. Your switchboard needs to be in perfect working order since it is the key to your home's power needs.
In older homes, the switchboards are usually outdated and can become a safety issue for your family. Switchboard upgrades are a priority.
By upgrading you are helping to remove the dangers associated with the old and defective equipment.
How do you know if you are in need of an upgrade?
Be on the lookout for some of the common signs that you need a new switchboard. These symptoms can turn into major issues and become dangerous.
Protect your home and your family from electrical shock and house fires by making sure you take the needed precautions and upgrade your switchboard.
Common Signs You Need an Upgrade
Fuses that blow a lot
Overcrowding
There is no safety switch
There are rewired fuses
Short circuits
Connections that are loose
What's involved in getting a switchboard upgrade?
The first step is to call 0788 39 57 58 to book in for a FREE quote.
Upon viewing your existing installation we will be able to determine exactly what needs to be done.
Often we will remove your old fuses, circuit breakers and RCD's and replace them with new circuit breakers and RCD's.
RCD's stands for residential current devices which are also known as the safety switches.
The earthing system will be replaced if it does not meet electrical standards.
Our staff are highly knowledgeable with switchboard upgrades and can complete the installation in just one day.
Every job we complete is to the electrical wiring rules.
We always go above and beyond in quality and safety. We pride ourselves in our high standards and fast service.