Welcome to Quantum Electrical Solutions, specialists in the design and installation of solar panel systems for domestic, commercial and industrial clients in Pretoria, Centurion and Midrand. We offer an honest, transparent, traditional approach which includes monitoring system performance for two years from installation. All solar system installations are carried out by our qualified and licensed personnel who have vast year of experience in solar system installations.
Solar systems designed for you
At Quantum Electrical Solutions, we do not install solar kits – all  solar systems we install are custom made; designed and installed according to your property requirements. We use the top brands in the market in all our installations and maintenance of solar systems.
Professional services
Our aim is to provide a superior and highly customer focused solar installation service. To achieve this we remain an independent installer, so each of our solar systems is designed specifically for the job in question. We have long established relationships with a small number of suppliers who themselves have excellent technical support from these manufacturers. This enables us to provide our customers with a high level of customer support in the unlikely event of faults developing.
Domestic and commercial  solar installation
The demand for solar energy commercially and domestically for has grown rapidly over the last twenty years. In recent years, there is a worldwide call for humanity to engage with projects that reduce the emission of greenhouse gases that contaminate the atmosphere, damage the ozone layer leading to global warming.
With this in mind, solar products are becoming a household familiarity, in fact, it is rare to find a road or village/town without the site of sleek solar panels glimmering in the sun, still powering in the rain and supporting energy production even in the poorest of winter days. Now more than ever we would encourage you to join the ever-growing solar user community; whether you are a homeowner, commercial premises or civil service building the benefits are plentiful, including:
​Advantages of solar system at you home or office
Saving money – reduce your energy bills instantly!
Installing a solar system enables you to generate your own free energy, you don't need to buy much from your energy supplier. This can save you a lot of money and protect you from load-shedding and the ever increasing energy bills. This energy could power many things in your home, from heating your water to charging your electric car! The more of your own energy you are able to produce, the less you have to worry about any rising energy prices. Join the thousands of homes that are benefiting from cheaper energy bills by installing solar panels and generating their own electricity.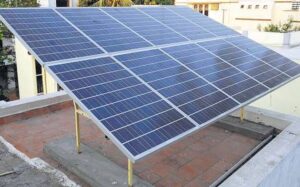 Go green, reduce emissions
​Aside from the savings that you could make on your household bills by using solar panels, solar power is better for the environment. Solar electricity is green renewable energy and doesn't release any harmful carbon dioxide or other pollutants. The larger the roof mass the more energy you can produce meaning the more energy you can generate, this is fantastic for large commercial businesses that often have larger carbon footprints and in turn larger energy bills too.
Why choose Quantum Electrical Solutions to supply and install your solar products?
​Quantum Electrical Solutions is a  brand with 10 years of cumulative installation experience of installing solar systems in Pretoria, Centurion and Midrand. Quantum Electric Solutions offers the very best advice, experience and service to suit your solar needs.