Rewiring your House
At Quantum Electrical Solutions, we offer you with House rewiring Pretoria service at an affordable cost with quality workmanship. To sum it up, rewiring your house will protect your family from electrical shocks, decrease the risk of fires caused by sparks and overheating and reduce electricity bills.

The rewiring of your house must be tested and completed by a qualified electrician.
The main reason for rewiring a house is due to out of date or faulty wiring. Faulty wiring can be very dangerous causing many house fires and serious incidents each year. Flickering lights or outlets making a popping sound can be sign that your wiring is faulty and well worth getting it checked by a professional. House rewiring Pretoria.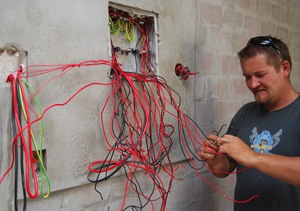 Benefits of Rewiring your house
Rewiring your home has many benefits such as:
Protect your family and visitors from electrical shocks
Reduce the risk of fires
Protect your appliances from electrical surges
Reduce electricity bills with the the installation of energy efficient lighting & accessories
Compliant with Insurance standards
House rewiring Pretoria
How much does it cost to rewire your house?
The costs involved in rewiring a house vary depending upon the time required to complete the rewiring and the size of the house. Rewiring must be completed by qualified electricians to ensure that your wiring meets SANS Standards.
Quantum Electrical Solutions can provide you with a free quote to rewire your house. To receive a quote from your local licensed electrician please call 0788 39 57 58.
Quantum Electrical Solutions offers a full suite of house wiring and rewiring services performed by experienced, licensed electricians.
Serving all of Pretoria, we provide fast, reliable service direct to all homeowners and commercial clients handling home wiring projects.
Our team has over a decade of experience serving Pretoria with our top-ranked heating and cooling services. House rewiring Pretoria.
Combine this with the finest electrical services possible and we are your complete service provider.
If you need a house wired or rewired in Pretoria, call Quantum Electrical Solutions today to discuss your project.
Our electrical services can also make future repairs, maintenance tasks, and renovations easier since we neatly layout our wiring with the future in mind.
Complete Electrical Services